Miranda House – University College for Women In Delhi
An Overview of Miranda House College
Miranda House is one of the most popular, older, and premier women's colleges at Delhi University established in the Year 1948. In 2019, this college has been categorized as the best college ranked by National Institutional Ranking Framework.
The popularity of Miranda house is growing day by day due to the immense opportunities it serves students from different areas. NAAC attributed an A+ ranking to this college having an aggregation of  3.361 CGPA.
 Principal of Miranda House DR. BIJAYALAXMI NANDA said, we always try to throw myriads of opportunities to students often emphasizing creating a balanced culture and modernity in ethos.  She also added, the endeavor for achieving the quest for excellence has rooted in an effective symbiotic relationship between students and their professors.
Miranda House is enriched with add-on courses, modules, and certificate courses renumerating unified experiences in humanities and social science.
Since its foundation by Lady Edwina Mountbatten, the college is attractive towards expanding research, and an internship with multinational giants simultaneously simulates an active learning environment within classroom windows.
Recently Miranda house has established two projects Tarang and Zaffran that sole aim is to uplift slum areas girls and help those who fall under communities in the needs categories. Under the Tarang, innovative and creative skills are being taught to women weavers to design impressive and traditional clutches for boosting marketing values. Similarly, Zaffaran is aiming at those women who can cultivate species, and packages, thus emerging as innovative marketing
When we talked about the collaboration of MH, the college strongly believes in spreading its innovation at the community level. It has formed an association with 11 international academic institutes Like EU Claire USA, King's College London, George Washington University, USA, etc. Meanwhile, MH increased its scholarship since 2008 to support economically privileged students. A total of 2,12,000 was donated by Trusts. Each scholar gets 6000 with the trophy on Alumnae Association Day in December.
Amid, these awards are given to students who are recognized under the merit list. Those comprehensive awards are-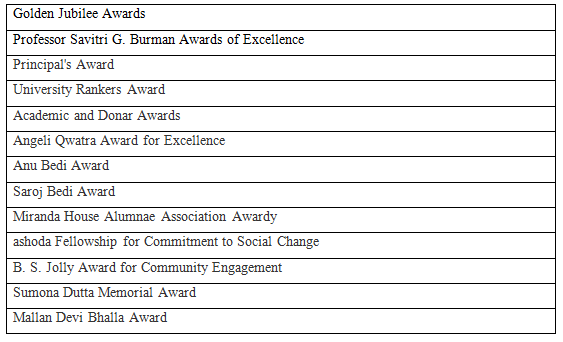 Located at the North Campus of the University of DELHI and after holding A+ in NAAC, MH offers both skill development and add-on courses to the students. Under add-on courses, students can gain insights into Bioinformatics and Silico Medicine; Operations Research, Green Chemistry Medical Biotechnology.
With this, MH has introduced the NSDC start Programme wherein 30 days of skill training is being provided to students with national certification.  It is also networked with MIHER skill academy to provide 480 hours training certificate course at a minimum budget. Consequently, MH is also working with the Pilot Programme of NSDC and Ants Consulting & Services Pvt. Ltd to serve media and entertaining courses for 120 students.
For Students:- BBA In Entrepreneurship After 12th
The placement cell of MH is highly influencing as the giants owning outlook, Thomas Reuters, DU express, ZEE media, Yes bank, Your sell came to the institutes to hire potential candidates. The average salary given to placed students ranges from 3 lakh per annum to 12 lakh per annum. However, It totally depends upon the capability and skill sets of students.